NATURAL GAS SAFETY FOR YOUR HOME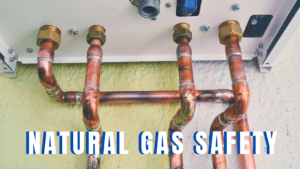 Natural gas is the world's cleanest fossil fuel, producing only carbon dioxide, water vapor, and small amounts of nitrogen oxide when burned. It is used to power a wide range of consumer products you likely have in your home. These appliances include furnaces, fireplaces, stoves/ovens, and clothes dryers. Gas appliances are efficient and are generally preferred over their electric or alternative-energy counterparts.  Like most sources of energy, natural gas can be dangerous if improperly handled. By being aware of a few simple natural gas safety tips (and knowing what to do if you have a gas leak or have been exposed to one), you can keep yourself and your family safe.
When used correctly, natural gas is safe.  Burning natural gas does produce some greenhouse gases, but it is still a greener solution than other fossil fuels. But you do need to be aware that natural gas is a flammable material. A natural gas leak in a house can cause potential fires, and inhaling the gas can cause natural gas poisoning. As with most energy sources, natural gas exposure must be taken seriously and handled with care.
According to the American Gas Association, over 177 million Americans (that is 48%) use natural gas in their homes. Following these natural gas safety tips can help you enjoy the benefits of natural gas.
A LEAK MAY BE PRESENT IF YOU: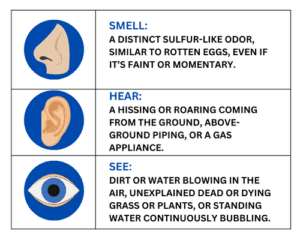 ACCORDING TO
SW GAS
, IF YOU NOTICE ANY OF THESE SIGNS:
Exit the area or building immediately. Tell others to evacuate and leave doors open.
From a safe place, call 911 and Southwest Gas (in Southern Nevada) at 877-860-6020, day or night, whether you're their customer or not. A Southwest Gas representative will be there as soon as possible.

Don't smoke or use matches or lighters.

Don't turn off or on any electric switches, thermostats, or appliance controls.

Don't start or stop an engine, or use an automated (garage) door.
As a homeowner, you are responsible for maintaining all gas lines carrying natural gas from your gas meter to the inside of your home. It's a great idea to have your natural gas pipes periodically inspected by a licensed plumber to help identify and repair any corrosion and leakage that could be causing unsafe conditions. For all your residential gas leak repair needs in Southern Nevada, trust the professional plumbers at JMAC PLUMBING AND AIR. We can perform fast and reliable gas leak repair in Clark County which you can trust. PLEASE NOTE: If you believe you are currently experiencing a gas leak in your home, leave the Premises and follow the steps outlined above.
We at JMAC Plumbing and Air prioritize your safety and comfort as the goal for all of our plumbing and air conditioning services. Call us today at 702-227-5622.